Waylon & Willie: The Unstoppable Duo
Together, Waylon Jennings and Willie Nelson were an unstoppable force on stage and in the studio. The two teamed up for songs that went on to be some of the most iconic duets in country music history, such as "Luckenbach, Texas" and "Mammas Don't Let Your Babies Grow Up to Be Cowboys."
They also made up one half of the country music supergroup, The Highwaymen, which rounded out its membership with Kris Kristofferson and Johnny Cash.
Although Jennings and Nelson had plenty of opportunities to record together, they never recorded a duet of one of Jennings' biggest hits. That hit was "Only Daddy That'll Walk the Line," which Jennings released in 1968 as the second single off of his album Only the Greatest.
All About That Great Song
"Only Daddy That'll Walk the Line" was a major hit for Jennings. The song topped the country chart in Canada and claimed the second spot on the U.S. chart. Other artists went on to record their own renditions of the song, including Linda Ronstadt and Hank Williams Jr.
#Nowplaying 3 quality songs from @OfficialWaylon #WaylonaJennings 'Only Daddy That'll Walk The Line' 'I've Always Been Crazy' & 'Are You Sure Hank Did It This Way' on @MeridianFM #Countrymusic #Countryradio pic.twitter.com/IyathsziAw

— JeannieB Country Radio Show (@JeannieBCountry) September 26, 2018
But one of our favorite versions of the song is one that was never set down in a recording studio. That version is a duet between Jennings and Nelson, which also features guitar work and backing vocals from some of their superstar friends.
A Performance To Remember
Along with Kristofferson, Marty Stuart, and Travis Tritt, Jennings and Nelson took over the stage with a red-hot performance of "Only Daddy That'll Walk the Line."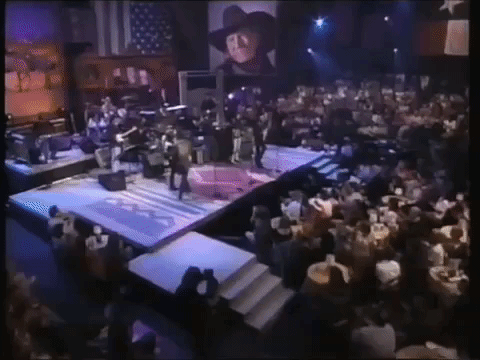 Nelson started off singing first, while all of his pals had a blast rocking out on their respective guitars. Kristofferson and Tritt pitched in with some enthusiastic vocals at the end of Nelson's solo.
After that, everyone jumped in on a rowdy guitar jam that led into Jennings' solo part. He managed to keep the energy level going all the way to the end, when everyone finished the song with a flourish.
Head on down below to watch your favorite country stars deliver an exceptional performance of Jennings' big hit. Now this is entertainment!