A Standout Idol Audition
Over the course of the audition phase, the American Idol judges Lionel Richie, Katy Perry, and Luke Bryan see hundreds of contestants. There's a lot of pressure placed on the Idol hopefuls to stand out, not just with their voices, but their personalities.
One country singer named Zebulon Spencer didn't cave under that pressure, and instead, showed the judges why he is the entire package and the potential perfect "Idol."
After Spencer stepped into the audition room, Perry asked him what he likes to do for fun. He told he that he's been clog dancing for 12 years, which prompted a hilarious response from the popstar. "Clog the toilet?" she asked.
That's when Bryan stepped in, telling Spencer to give him his guitar so he could play for him while he showed Perry what clogging is.
Perry started to catch on, asking if it was "like they do the Irish dance, the Irish river dance?" While she wasn't too far off, it turns out that she was thinking of an entirely different style of clogging! There's actually a more Americanized version of the dance that formed an attachment to bluegrass and folk music, and is appropriately called American clogging.
A Champion Clogger
After that, Spencer showed how skilled at clogging he is. His feet started flying as Bryan played an upbeat ditty on the guitar, and he kept getting faster as the song progressed. He later explained that he once won a championship title for his dancing, and we could believe it!
The judges were left in awe of his talent, with Richie exclaiming that what he just witnessed was "fantastic!"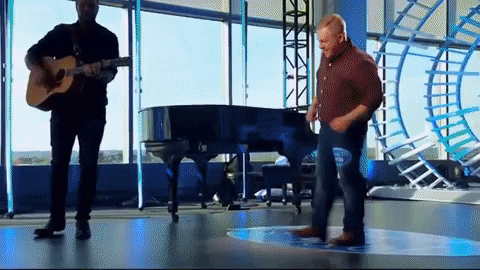 But was Spencer also able to impress the judges with his singing?
The 27-year-old from North Carolina proclaimed he was going to sing Muscadine Bloodline's "Porch Swing Angel," since it illustrates the way he feels about the special lady in his life. 
As he sang, all three judges appeared a bit teary-eyed, especially Perry.
Did He Make The Cut?
If their emotional responses didn't make their thoughts clear enough, the judges proceeded to shower Spencer with praise once his performance was through.
"I love your potential man, I love it," Bryan said. "May be my favorite country voice that's come through the last year and this year."
It seems that Spencer danced and sang his way into the judges' hearts, because they declared that they were giving him a golden ticket and sending him on to Hollywood!
Now, watch the song and dance that got Spencer there by tuning in to the video below. If he ever makes it big, we want to see him do some clogging on stage, because he has some insane skills!