How The Idol Finale Turned Out
On Sunday night (May 19), Laine Hardy and Alejandro Aranda stood side-by-side as they waited to hear which one of them would be the next American Idol. After weeks of singing their hearts out, it all came down to that moment.
Finally, host Ryan Seacrest read the name inside the sparkly envelope he clutched in his hand. And the name he read was Hardy's.
Congratulations @TheLaineHardy!!! You're our American Idol!! ? #AmericanIdol #IdolFinale pic.twitter.com/LwtFwQMZHu

— American Idol (@AmericanIdol) May 20, 2019
That meant that Aranda was in second place. 
In the seconds immediately following the announcement, Aranda appeared to be thrilled for Hardy. He instantly shot him a smile, and the two shared a hug before Hardy made his way over to Seacrest.
The Top Two Respond On Social Media
Hardy didn't get the chance to say much about his win during the broadcast. So he took to social media the following day to reflect on the life-changing moment, writing "This is all so crazy."
Aranda followed suit, and expressed his thoughts about the Idol finale on social media as well. His message showed that he harbored no feelings of resentment toward Hardy, as he wrote "It's all love <3"
He also took the time to thank his fellow contestants, writing "But also thank you to every single person I met on the way. love you to the world and back."
How Alejandro Feels About Second Place
But before writing that post, Aranda's initial reaction to his second-place finish came in an interview with HollywoodLife.com published the morning after the finale (May 20). And in that interview, he had some surprising things to say.
It turns out that Aranda was actually happy that Hardy won the show instead of him. Why? Because he didn't want to have to deal with all of the pressure of being an Idol winner!
As he told HollywoodLife.com, he is "definitely" glad he doesn't have as many responsibilities as Hardy does now. 
Aranda's words echo what the judges expressed in an interview, when they revealed there were multiple times they had to convince him to stay in the competition because he wasn't sure if he could go through with it.
What He Has To Say To Laine
In the HollywoodLife.com interview, Aranda also shared what he thinks of Hardy specifically, and had nothing but kind things to say about him. He also shared some encouraging words for Hardy to carry into the future.
"He just has to make tons of music," he said. "And do everything to be the best that he can be."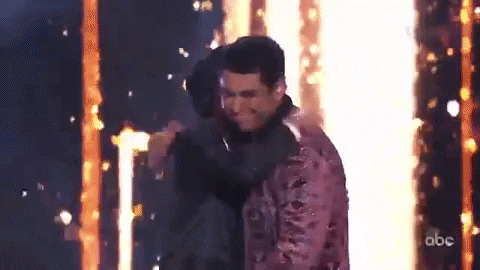 So far, we'd say that Hardy is doing just that, and so is Aranda!
The judges had a feeling from the start of the show that Aranda was going to be a star, and that feeling turned out to be right! His unforgettable audition won the hearts of millions, and helped propel him to where he is today. Relive that moment by tuning in to the video below.
A huge congratulations to both Hardy and Aranda on their success…they definitely earned it!