Carrie Underwood may have undergone ten outfit changes over the course of the CMA Awards this year, but Reba McEntire wore three outfits for just one performance!
In addition to serving as a guest co-host of the awards, McEntire was given a performance slot. She chose to sing the Bobbie Gentry-penned "Fancy," which was a big hit for McEntire in 1991.
Years ago, during her televised Fancy special, McEntire made jaws drop when she took off an elegant black coat to reveal a red dress underneath. She pulled off this costume change mid-performance, and kept singing "Fancy" without missing a beat.
So when it came time for the 2019 CMA Awards, McEntire wanted to replicate that same stunt. But she not only wanted to replicate it, she wanted to top it.
Instead of changing her outfit once during her CMA Awards performance of "Fancy," McEntire pulled off two onstage costume changes. She started out in a violet-colored robe of sorts, and carried a matching feather boa.
Then, she shrugged off that robe to reveal a vibrant red dress underneath. That was an epic transformation on its own, so viewers were stunned when she later tore off the skirt of the dress to reveal yet another outfit.
McEntire closed the performance in this final outfit, a red jumpsuit that was covered in sequins.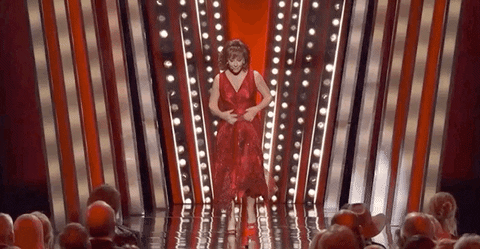 While McEntire made her "Fancy" costume changes look easy, they took a lot of work. And all of that work had to be crammed into a short amount of time.
Speaking to InStyle, costume designer Matt Logan shared that McEntire's three "Fancy" outfits for the CMA Awards had to be designed, tested, and finished in just three weeks:
"I bought the fabrics in New York City and landed back in Nashville three weeks to the day of the show," Logan said. "However, this series of dresses required us to rehearse the changes as well…It is a very tight timeline for something that not only has hundreds of details but it had to 'work'…I mainly live in a costume world and we are used to pulling off the impossible, but this was a tall order!"
McEntire also spoke to InStyle, telling the publication she knew the outfit changes would take some "magic" to pull off:
"How do you get a pantsuit out of a dress in two seconds?" she said. "That takes some creativity and magic! I hope people are wowed and surprised by it. And selfishly, I want them to say 'Dang, Reba's still got it!'"
That's definitely what people were saying after they watched McEntire perform "Fancy" at the CMA Awards this year. You can catch her performance and multiple outfit changes in the video below.