What do you get when you combine sibling harmony and the acoustics of an old abandoned church? A breathtaking sound that can't be matched with even the best studio equipment.
While on vacation in Great Smoky Mountain National Park, three Arkansas siblings ventured into an abandoned church in Cade's Cove. They immediately knew that the wood planked walls and floors would provide them with unmatched acoustics.
The trio stood in front of the decades-old pulpit and began to sing one of their favorite a cappella hymns, "Power of the Cross."
15-year old Audrey Aaron's crystal clear soprano kicks off the song as 18-year old Carson and 16-year old Grace join in. In perfect harmony the trio delivers the familiar melody.
Oh, to see the dawn
Of the darkest day:
Christ on the road to Calvary.
Tried by sinful men,
Torn and beaten, then
Nailed to a cross of wood.
This, the power of the cross:
Christ became sin for us,
Took the blame, bore the wrath:
We stand forgiven at the cross.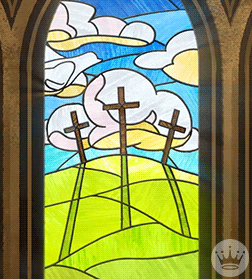 "Power of the Cross" was made popular by Keith and Kristyn Getty, the husband-wife duo from Ireland who started a "modern hymns" movement. Their songs have been recorded by numerous artists including Alison Krauss and Ricky Skaggs.
But, it's the Aaron siblings' a cappella cover of the Getty's "Power of the Cross" that we can't stop listening to. We think that you'll want to listen more than once as well! Check it out in the video below.